Careers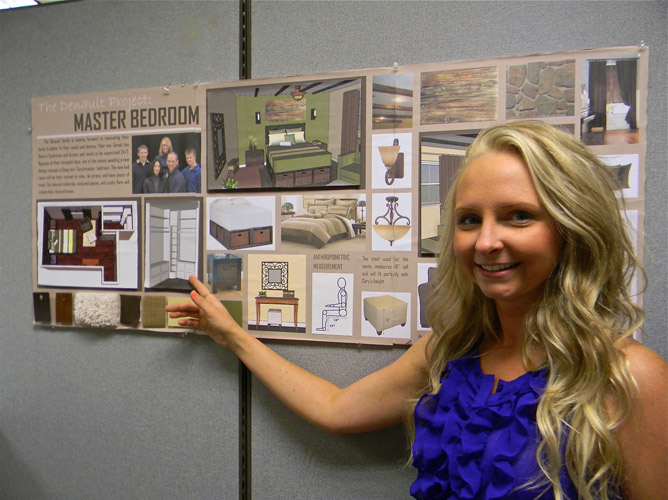 Related Skills
Analyze client's needs, goals, life, and safety requirements
Integrate findings with knowledge of interior design concepts that are appropriate, functional, and aesthetic
Develop and present final design recommendations through appropriate presentation media
Prepare working drawings and specifications for non-load-bearing interior construction, materials, finishes, space planning, furnishings, fixtures, and equipment
Collaborate with professional services of other licensed practitioners in the technical areas of mechanical, electrical, and load bearing design as required for regulatory approval
Prepare and administer bids and contract documents as the client's agent
Review and evaluate design solutions during implementation and upon completion
Related Fields
The Interior Design major focuses on residential and commercial design. Residential interior designers are responsible for the layout and design of spaces where clients live while commercial designers specialize in designing spaces for businesses such as offices, restaurants, stores, and more. Interior Designers are needed in many areas such as:
Health Care
Hospitality
Facility Space Planning
Retail Design
Consulting Services
Lighting Design
Exhibit Design
Sustainable Design
Program Highlights
Accredited by the Council for Interior Design Accreditation (CIDA) since 2002
Research informed design solutions
Virtual reality
Design Software
Regular visits to top 100 design firms and industry sites
International study abroad opportunities
Close interaction with faculty
Being Successful in the Field
Get Experience Early
There are endless opportunities to get involved as you work toward a career in interior design. Begin by joining a student organization like International Interior Design Association (IIDA) where you'll have the chance to network with faculty, alumni, and professionals as well as fellow students in the Fashion program at ISU.
Complete an internship that relates to your career goals. Students in the Interior Design major will complete a required internship as part of their academic requirements, which typically takes place the summer between junior and senior year. As you engage yourself in your courses, start thinking early about your passions in the field, what you 
still want to learn, and what kind of internship will prepare you for the career you want after graduation.
Consider Earning a Minor
Minors can help students gain additional practice and understanding in their future areas of expertise.  Some common minors that pair well with Interior Design include:
*Adding a minor is not required to graduate
Think about Graduate School
Although not required to be successful in the field, a graduate degree in Interior Design can qualify you to enter the workforce at a higher level and make you a more competitive professional when entering thejob market. Illinois State University offers a unique accelerated master's option for students who earn their bachelor's degree through the Interior Design undergraduate program. More information can be found here.
Alumni/Employers
Farnsworth Group, Inc. – Bloomington, IL
Whitney Architects – Chicago, IL
Lippmann's Furniture and Interiors – Peoria, IL
Interior Design Group Ltd. – Lisle, IL
Marie Flanigan Interiors – Houston, TX
Gensler – Los Angeles, CA
Cannon Design – Chicago, IL
Arcturis – St. Louis, MO
Beijing Capital Museum – Beijing, China
HOK – Various Locations
Career Industry Liaison
| Name | Office | Email | Phone |
| --- | --- | --- | --- |
| Kristy DeWall  | 223 Bone Student Center  | ksdewal@ilstu.edu  | (309) 438-2200  |
Internship Coordinator
| Name | Office | Email | Phone |
| --- | --- | --- | --- |
| Jenna Kirkwood  | Turner Hall 106  | jlkirk6@ilstu.edu  | (309) 438-2517  |